Watch porn movies from Brazzers on your mobile phone, smart phone.

Free Porn Movies for your mobile phone.



New Scenes From Mobile Brazzers:

March 19, 2015


Mobile Brazzers Presents:
My Two Wives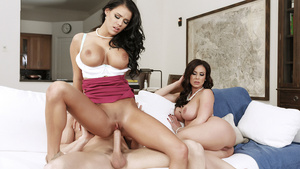 CLICK TO PLAY VIDEO
Johnny Sins could not ask for more because he has the two hottest and sexiest housewives! Yes Two! At first you could not believe how Johnny handles these two cock hungry milf sluts until you watch them in intense hardcore threesome. First they take turns licking and sucking his cock until it turns rock hard and then get their big natural titties fucked like never before. And when their filthy mouths are satisfied, they take to the next level as their pussies licked and finger fucked until its dripping wet. Johnny makes sure to give them the hard pounding they've been craving for, alternately fucking they sweet and tight holes until they cum hard on his dick. Johnny returns the favor by giving them an equal share of his load right across their pretty faces!
Starring: Kendra Lust and Peta Jensen
Mobile Brazzers Network Site:
Real Wife Stories
More on Brazzers for Mobile...
March 18, 2015

Mobile Brazzers Presents:
She Wants Me Fired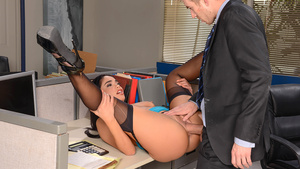 CLICK TO PLAY VIDEO
Danny D. is sick and tired at the office seeing his slutty co-worker Selena Santana sucking off Banana pretending it as a dick in her mouth. Totally frustrated, he decided to finally give what she really wants. A big hard cock for her sexual pleasure. AFter she teases him in a sexy striptease, Danny strip her off to nothing showing off her nice juicy ass and bouncy boobies and then bends her on the desk so he can lick and eat her sweet pussy until its dripping wet. When they are already warmed up, Danny pounds her from behind in a hard and intense manner making Selena cum hard on his thick hard rod. And when she asks for more, Danny gives a nice anal fucking she truly deserves before having her face coated with hot and sticky cum!
Starring: Selena Santana
Mobile Brazzers Network Site:
Big Tits at Work
More on Brazzers for Mobile...
March 17, 2015

Mobile Brazzers Presents:
Wish Upon A Squirt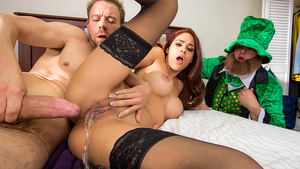 CLICK TO PLAY VIDEO
Jasmine Caro is hearing something weird in her closet. When she opens it she was shocked to see a horny leprechaun sniffing her panties. Horny as fuck, she knows the little guy can grant her wish of having a big cock in her bed. In a snap of his fingers, the leprechaun made the naked guy appear and upon seeing his huge rod, she jumps in and give him a sloppy blowjob. The naughty leprechaun enjoys watching her clits getting licked before a nice tittyfuck action. Afterwards, Jasmine does something she loves most, getting her wet and tight holes get drilled starting from her pussy and her sweet ass hole. And after she ended up with a messy cum facial, the magic man steals a lick on her two big natural melons.
Starring: Jasmine Caro
Mobile Brazzers Network Site:
Shes Gonna Squirt
More on Brazzers for Mobile...
March 14, 2015

Mobile Brazzers Presents:
Please Don't Fuck Him, Honey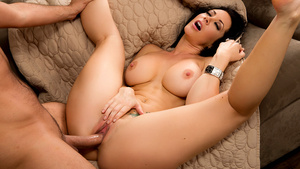 CLICK TO PLAY VIDEO
Jayden Jaymes is a typical housewife but when she caught her husband cheating on her with some whore, she is determined to get a nice revenge. She call in her friend Keiran whose always been fantasizing about her big natural tits and nice juicy ass. She start off by giving him a nice sloppy blowjob then enjoys getting tittyfucked like a real slut. She opens her legs so Keiran can freely eat her sweet milf pussy until she's dripping wet and ready to fuck. Next, she buried Kaeiran's thick cock deep in her and then rides it in a reverse cowgirl position. Later on, she bends over and let her big natural boobies bounce like jellies as Keiran fucks her in a doggystyle position. She ends up with a great satisfaction as Keiran blasted a huge cum facial!
Starring: Jayden Jaymes
Mobile Brazzers Network Site:
Real Wife Stories
More on Brazzers for Mobile...
March 12, 2015

Mobile Brazzers Presents:
Nympho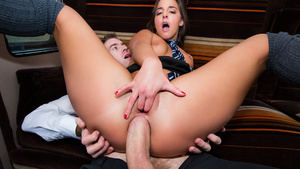 CLICK TO PLAY VIDEO

Amirah Adara can't get enough of sex. Her hunger for big cocks always kicks in even in the strangest places. Today she rides on the train and wouldn't go down without fucking a stranger. She seduces every hot guy hoping to find the biggest cock and luckily there's Danny whose also looking for a fuck buddy. As Soon as they lock themselves on the cabin, Amirah gave him a nice sloppy blowjob then Danny returned the favor as he finnger-fuck her until she's warmed up and wet. Next Danny goes down on her licking and eating her sweet pussy making her moan to extreme orgasmic sensation. Next, Amirah rides his massive cock a cowgirl then bends over to get an intense anal fucking. She ends up with a messy cum facial! Watch now!

Starring: Amirah Adara

Mobile Brazzers Network Site:
Teens Like It Big

More on Brazzers for Mobile...







These porn videos work great with smartphones such as:

Apple Iphone iTouch AT&T

Google Android Phones for T-mobile:
G1 - MyTouch - Motorola Cliq

Verizon Android Phones:
Motorola Droid - Droid Eris

Sprint Android Phones:
HTC Hero

Palm Pre

Blackberry Storm - Storm2
and other Blackberry Phones