Mobile Brazzers Presents:
Can I Have This Dance… And This Job?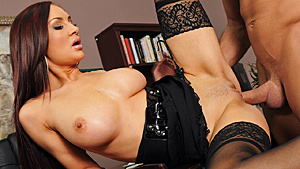 CLICK TO PLAY VIDEO
Amy Ried is a supervisor in an office. One night she meets a dude at a club and they grind on the dancefloor and make out. The next morning said dude is in her office and she's interviewing him for a job. Needless to say, the position she has in mind for him will need a through try-out. She puts him through the paces. He sucks her tits, she blows him, finally he slips that rock hard cock right into her tight pussy. I think he got the gig.
Starring: Amy Ried
Mobile Brazzers Network Site:
Big Tits at Work